EVENT STYLING ISN'T ONLY ABOUT DECOR. IT'S ABOUT CREATING A MOOD.
Sarah Khan Event Styling focuses on high-end and elegant Indian wedding decorations, Pakistani wedding decorations, Bengali wedding decorations and "Fusion" wedding decorations for South Asian weddings & receptions. We specialize in exquisite styling for stage decorations, Desi wedding decorations, Hindu ceremony, Mandap, Sikh ceremony decorations, Chuppa, Huppah, Mehndi, Sangeet, Sagan, and Persian receptions. We weave together the intricate details of your special day and translate your vision and personality into an unforgettable experience.
Behind the Scenes with
Sarah Khan Event Styling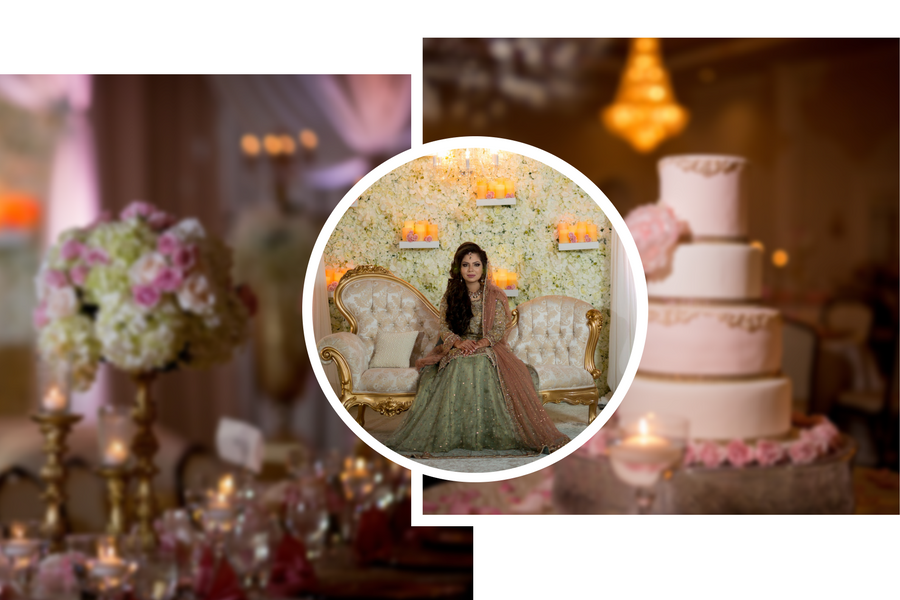 We specialize in providing draped backdrops, Indian/Pakistani/Bengali and South Asian weddings stage decor from furniture to flowers and centerpieces. We bring it all together and consult with your vendors to ensure the overall feature of your event is cohesive and as spectacular as you had envisioned it to be. Event styling isn't just about floral design, it is about creating a mood. Your guests may not remember what was said or done during the event but they will always remember how they felt, and this is where SKES helps you make an impression.
"The Difference is in the Details"
Team Sarah Khan Event Styling is a skilled group of staff members ranging from event production, logistics coordinators, graphic designers, floral artists, carpenters and some people that are just down gifted with their craft skills.
Our Process
From the moment you contact SKES through to your big day, we lovingly handle your most special day with the same love & attention one would expect during the dating & courtship, engagement and marriage process.
01. Dating & Courtship
During your introductory consultation, our team gets to know what visual details make your heart flutter through our extensive courting process
02. Engagement
After we agree on compatibility, we begin to translate the dreamy details of your special day into tangible pieces integrated throughout your event spaces
03. Tying the Knot
Execute the pieces of your vision and marrying your style with our creativity & experience to create the perfect pairing
Sarah and her team surprised me with an incredibly and refreshingly bold and beautiful stage, unique centerpieces, and programs for our wedding reception. It was heartwarming to see everything come together so beautifully, and my family and I and our guests were all absolute fans. Sarah is probably one of the most professional vendors in town and is eloquent in her execution. She made our Turkey-inspired theme an inspiration in and of itself, and was very helpful during our planning process. I will happily work with SKES again for future family weddings!
- Sara,
General Inquiries
Thank you for thinking of Sarah Khan Event Styling to plan the details of your most special day. Use the form to the right for general questions only. If you would like to submit a Request for Proposal, please click the button below:
Something is wrong.

Instagram token error.